Hispanic Heritage Month Highlight – Osvaldo Aranda

Return to Blog
Hispanic Heritage Month is a time to celebrate and honor the vibrant culture, contributions, and achievements of Hispanic and Latino individuals. At Helix Electric, we take immense pride in recognizing the remarkable journey and accomplishments of one of our own, Osvaldo Aranda, an HR Coordinator currently supporting our LA and San Diego groups. Through his inspiring story, we hope to shed light on the importance of embracing diverse backgrounds and cultures within our workforce.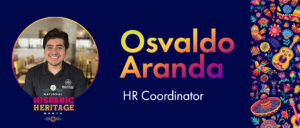 Osvaldo Aranda – Human Resources Coordinator
Shaped by Sacrifice and Perseverance
Osvaldo's story is one of resilience, shaped by the sacrifices and determination of his parents. Their selfless dedication to providing better opportunities for Osvaldo and his sisters left a lasting impact. Osvaldo reflects on his upbringing, recalling his father's unwavering work ethic and his mother's constant support, both of which have molded him into the person he is today. Osvaldo's parents worked tirelessly, putting their children's needs above their own desires. Their sacrifices instilled in him a strong work ethic and a deep appreciation for the opportunities he was afforded. He acknowledges how initially, he resented his father's long work hours but has since come to respect and admire the sacrifices made for their family's future.
Achievements and the Journey to Success
Osvaldo's journey to becoming an HR Coordinator at Helix Electric is a testament to hard work, determination, and overcoming challenges. Growing up sharing a room with his sisters until college graduation, Osvaldo realized the significance of this sacrifice when he encountered a different reality in college. He seized the opportunity provided by the Long Beach Promise, proving that dedication and focus can pave the way for a brighter future.
The Importance of Hispanic Heritage Month
For Osvaldo, Hispanic Heritage Month holds great significance as it provides a platform to share stories, celebrate diversity, and educate others about the rich heritage and unique experiences of the Hispanic and Latino communities. He feels honored to be recognized during this month and encourages everyone to take the time to understand and appreciate the histories and lives of those around us.
Recognizing and Inspiring Others at Helix Electric
Osvaldo recognizes the dedication and hard work of his fellow employees, particularly those in the field who face diverse challenges daily. He admires their unwavering commitment and believes in acknowledging and celebrating their achievements, showcasing the strong sense of camaraderie at Helix Electric.
Inspiration to Make a Mark
Osvaldo draws inspiration from the relentless determination of his family and the hardworking team at Helix. He aspires to continue making a positive impact within the company, driven by the dedication and sacrifice that have shaped his journey.
Conclusion
As we celebrate Hispanic Heritage Month, we honor the unique stories and journeys that contribute to the rich tapestry of our community. Osvaldo's story serves as a reminder of the importance of acknowledging and embracing diverse backgrounds within our workplace, fostering a culture of understanding, respect, and appreciation. At Helix, we stand proud of our diverse team and celebrate the individuals who bring their unique experiences and perspectives to our collective success.