Employee Spotlight – Rudyard Alfred

Return to Blog
February marks Black History Month, which provides a time to recognize the invaluable contributions Black Americans have made throughout history. At Helix Electric, we are honored to observe the month, while of course remembering that this celebration and acknowledgment must go beyond just one span of time.
To honor Black History Month and the continuing story of Black history, we spotlight employees that represent what it means to be #TeamHelix and represent their African American community.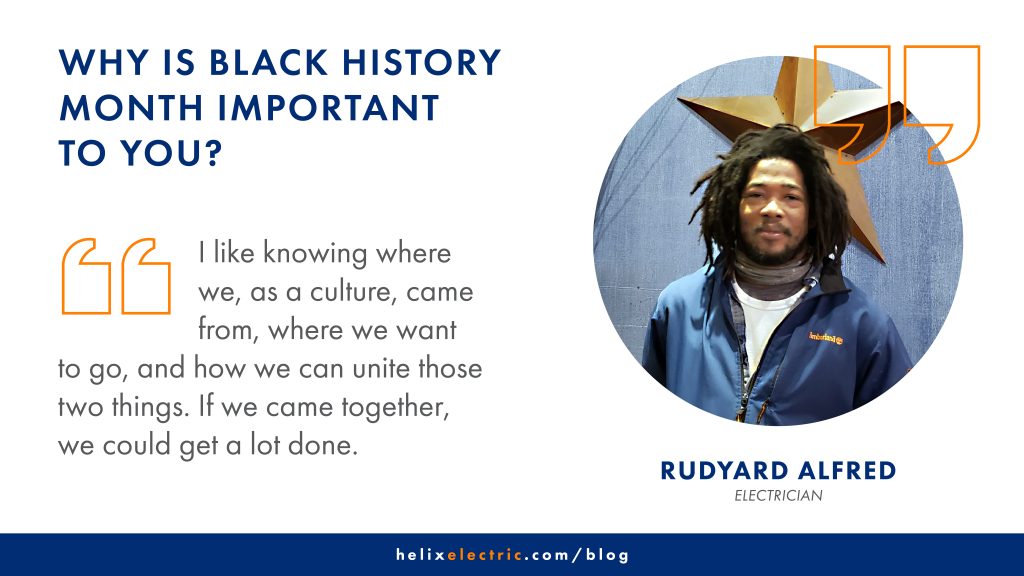 Rudyard Alfred – Electrician
How has your heritage, events, or people in your life shaped who you are today?
I am from St Luke, Dominica, one of the Guadalupe Islands of France in the Eastern Caribbean Sea, just Southeast of Puerto Rico. I speak both French and English.  My siblings consist of one brother and a half-sister. My mom was instrumental in my upbringing. She taught me everything I know from a very young age, like washing, cooking, cleaning, and how to deal with hard times when they happen. Back home, I was part of the "sun" crew. I worked on the lights for the stage, primarily during carnival season. It was not unusual to only get one hour a day of sleep. I always worked well under stress. It was through the family expectation of hard work, and drive to achieve, that formed me into who I have become.
What achievements/sacrifices have you made to get you where you are today?
One of the achievements that I am most proud of is earning my black belt in martial arts. It is something that took additional hard work and devotion to accomplish. That achievement helped me to stay focused and continue to work toward my professional goals.
I was supposed to go to Cuba to study, but I didn't. I came to the US instead. The reason I came home was for my wife. Leaving my mom was the biggest sacrifice I have ever made.
I'm proud to say that I graduated from IEC in 2019. It took me eight months to find work. I called Helix, and Tanika called someone for me, and helped to get the ball rolling.
Why is Black history month important to you and what would you like others to know regarding BHM?
I like knowing where we, as a culture, came from, where we want to go, and how we can unite those two things. If we came together, we could get a lot done. As an example, if our team came together on-site, we could accomplish a lot, versus fighting each other and losing productivity and momentum.
How do you plan to honor Black History Month as you continue to achieve at Helix?
I am active, and interact with a lot of temps, encouraging them to join Helix. I also contribute to Helix Helping Hands and step up to help at every opportunity that is presented. I make sure that I help young ladies who are new to the industry, going crew to crew, helping, and teaching them connections, how to do things, bending pipe, etc. So, basically, I encourage others who are learning to do something. I feel pride in going the extra mile.
Who or what inspires you to make your mark at Helix?
Prior to working at Helix, I knew I wanted to be an electrician. I attended Electrical Summer school when I was nine years old. From a young age, my uncle always reinforced my work ethic. He would say, "regardless of your pay, do your job to the best of your ability because that's a reflection of who you are." I ended up going to school to become an Electrician, as I mentioned. I was inspired and began making my mark with Helix. I met fellow electrician, Pete Padilla, who also inspired me to make my mark. At the Wharf project, he put me in charge of 15 guys. I knew I was heading in the right direction and making an impact. I plan to bring teams together more on the jobsite to improve communication.