Employee Spotlight – Lecorey Fitzgerald

Return to Blog
February marks Black History Month, which provides a time to recognize the invaluable contributions Black Americans have made throughout history. At Helix Electric, we are honored to observe the month, while of course remembering that this celebration and acknowledgment must go beyond just one span of time.
To honor Black History Month and the continuing story of Black history, we spotlight employees that represent what it means to be #TeamHelix and represent their African American community.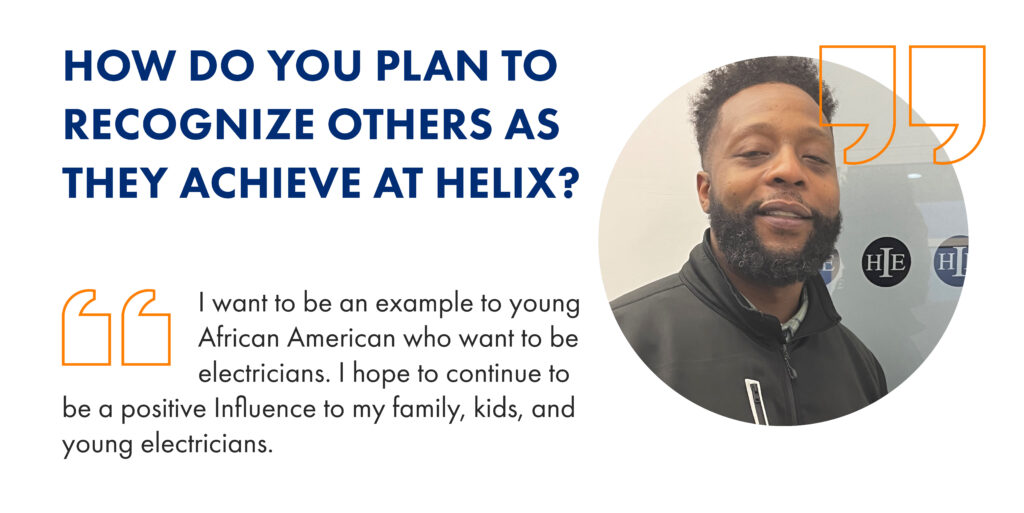 Lecorey Fitzgerald – Lead
How has your heritage, events, or people in your life shaped who you are today?
I came from a hardworking family. But, when I joined the Marine Corp, it changed my life. Through the Marines I developed discipline, integrity, core values, and most of all respect for myself as well as others.
What achievements/sacrifices have you made to get you where you are today?
My family is my greatest joy. I accepted a job out of town, leaving my family for a while. It was hard being away, but necessary for me to gain the knowledge and grow in this industry.
Why is Black history month important to you and what would you like others to know regarding BHM?
It's my heritage black history is American history.
How do you plan to recognize others as they achieve Helix?
By being an example to young African American that wants to be electricians.
Who or what inspires you to make your mark at Helix?
My family, my kids, the young electricians. I hope to continue to be a positive Influence. When I was dealing with personal circumstances, Helix was there for me, from my Superintendent to my General Superintendent, other employees, they inspire me to reach for more.