Employee Spotlight – Kimberly Ward

Return to Blog
February marks Black History Month, which provides a time to recognize the invaluable contributions Black Americans have made throughout history. At Helix Electric, we are honored to observe the month, while of course remembering that this celebration and acknowledgment must go beyond just one span of time.
To honor Black History Month and the continuing story of Black history, we spotlight employees that represent what it means to be #TeamHelix and represent their African American community.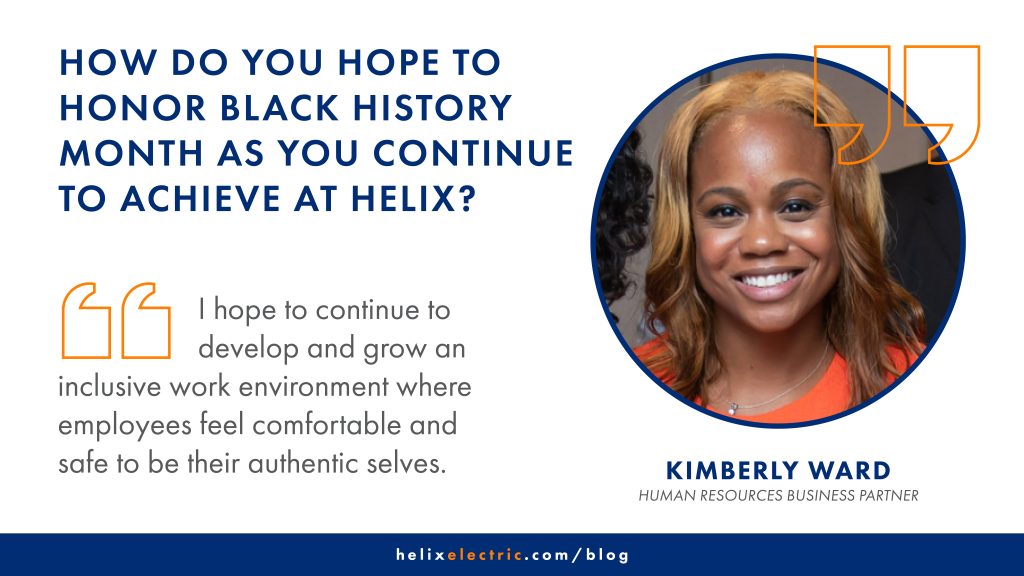 Kimberly Ward – Human Resources Business Partner
How has your heritage, events, or people in your life shaped who you are today?
My parents came from two different backgrounds. My mom a true southerner from Savannah, GA, and my dad an immigrant from Kingston, Jamaica. Growing up with parents from different cultures taught me that life isn't the same for everyone, and we get to choose how we want to live. From this alone, I have always taken the approach that I am in control of my life, and I get to dictate and measure my success.
I started my first job in middle school, and ever since then I have been working and studying. It was instilled in me as a child to work hard, get an education and ensure I was always able to take care of myself, which has led me to become the strong proud woman that I am today.
What achievements/sacrifices have you made to get you where you are today?
My greatest achievement is the constant balancing act of nurturing and guiding my family while feeding my professional ambitions in pursuing a unique career path. I am very pleased that my son's know and truly believe I am working towards a bigger mission in life, which is to make an impact on others that is unimaginably positive. I am ecstatic to show the world that with dedication, determination, and believing you can accomplish anything regardless of negative statistics, critics, or any other obstacles that may hold you back from your true potential.
Years ago, I set a goal to obtain my Master of Business Administration from Georgia State University. I am thrilled to receive my degree on May 4th, 2023. I am grateful for my family, friends, and co-workers that have been on this journey and supported me mentally, physically, and socially for the last two years.
Why is Black history month important to you and what would you like others to know regarding BHM?
The beginning of 2022, I became curious to learn more about my family and our ancestors. I started down a similar path most curious minds do. I pulled a chair up next to my mom, signed up for ancestry.com and began to dive into our lineage. Unfortunately, we were only able to discover three generations. It saddens me that I may never know the history of my family due to Americas past austerities against black people. Black History month is a time for reflecting on the past while not ignoring what happened. More importantly, it's a time to think about our part in creating and sharing notable African Americans past stories and highlighting current success stories, as a way for all people to learn more about the black culture and to be a part of ending systematically unethical legislation, bias, and conscious/unconscious mistreatment of African Americans.
How do you plan to honor Black History Month as you continue to achieve at Helix?
I hope to continue to honor Black History month by continuing to speak my truth and encourage others to be proud of their background and cultures. I hope to continue to develop and grow an inclusive work environment where employees feel comfortable and safe to be their authentic selves. I hope to continue encouraging others to share their stories, as most people do not know how motivational and encouraging it is for others to hear the stories of their co-corkers. The culture we are building at Helix is inimitable!
Who or what inspires you to make your mark at Helix?
Working at Helix inspires and challenges me every day to thrive for more and achieve new heights. I am proud to work for an organization that values, celebrates, and encourage employee wellness.
I have had the opportunities to learn from various leaders such as Charlene Sanders, Dick Schultz, and Andrea Rosenthal to name a few. I am constantly inspired by the people I work with every day.
I am so excited to be a part of a transformation within my team. It is inspirational to witness the elevation of all my team members and our ability to bring our vision to life and ensure our team is a part of the success of meeting our company goal to become a billion-dollar electrical firm.