Employee Spotlight – Kevin Nunn Sr.

Return to Blog
February marks Black History Month, which provides a time to recognize the invaluable contributions Black Americans have made throughout history. At Helix Electric, we are honored to observe the month, while of course remembering that this celebration and acknowledgment must go beyond just one span of time.
To honor Black History Month and the continuing story of Black history, we spotlight employees that represent what it means to be #TeamHelix and represent their African American community.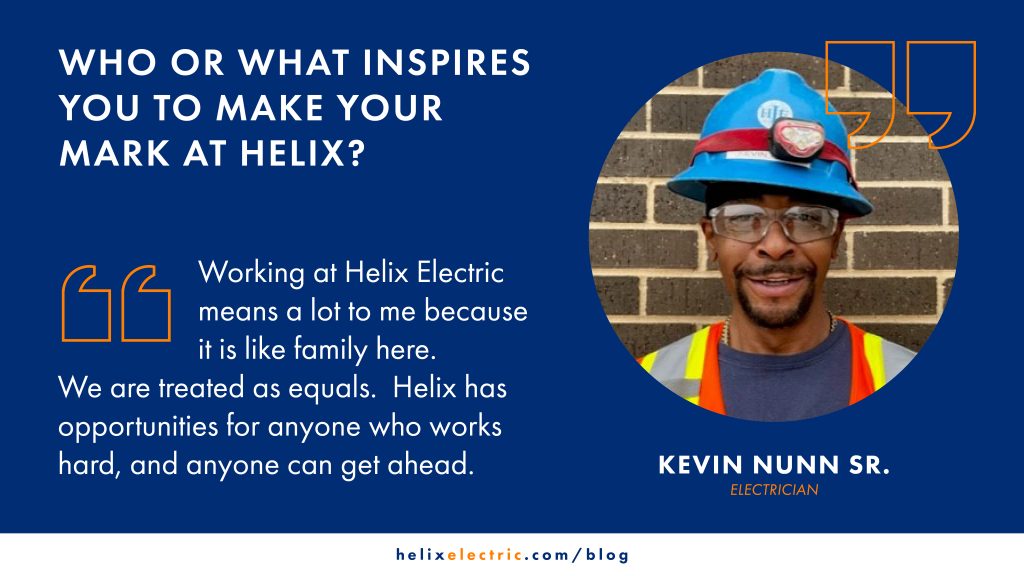 Kevin Nunn Sr. – Electrician
How has your heritage, events, or people in your life shaped who you are today?
My grandfather was a great man from Bastrop, Texas. He owned his own business as well as drove the school bus for the local high school. Everyone in the whole town loved him and knew him as a God-fearing, hard-working man in the 1930's . I have always wanted to be like him. I wanted everyone to know the kind of person I am, and to be regarded in the same way – with respect and known as a hard-working, dedicated electrician.
What achievements/sacrifices have you made to get you where you are today?
I have been an electrician for 26 years and have been through a lot while learning my trade. Being an electrician is not just a job for me, it's my passion.
Why is Black history month important to you and what would you like others to know regarding BHM?
When I first started as an electrician a lot of guys didn't like that fact that I was a black man in a white man's trade. That made me angry until an older man told me to stop being angry and learn the trade the best I can and be the best at what I do. I had to work harder than everyone else and that's how I earned respect. That shaped me into the person I am today. Black History Month means freedom and equality for everyone and knowing that Helix honors that idea is important to me.
How do you plan to honor Black History Month as you continue to achieve at Helix?
I hope that seeing what I have accomplished with my hard work will inspire people. A God-fearing, hard-working man just like my grandfather. Being chosen to be highlighted during Black History Month is a great honor for me.
Who or what inspires you to make your mark at Helix?
Working at Helix Electric means a lot to me because it is like family here. We are treated as equals. Helix has opportunities for anyone who works hard, and anyone can get ahead. A special thanks to Joel Barnett, Brent Hiatt, Paul King, and Herb Brauchle for being great leaders. They pave the way for anyone who wants to get ahead and are good examples for everyone.