Employee Spotlight – Bryant Clemmons

Return to Blog
February marks Black History Month, which provides a time to recognize the invaluable contributions Black Americans have made throughout history. At Helix Electric, we are honored to observe the month, while of course remembering that this celebration and acknowledgment must go beyond just one span of time.
To honor Black History Month and the continuing story of Black history, we spotlight employees that represent what it means to be #TeamHelix and represent their African American community.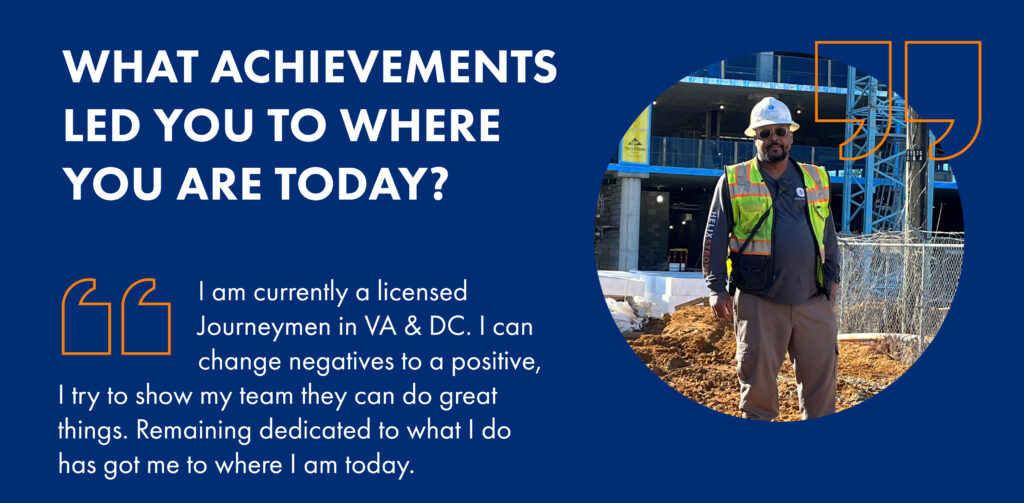 Bryant Clemmons – Superintendent
How has your heritage, events, or people in your life shaped who you are today?
My family is my inspiration. My Mom, while raising three boys, attended NC Central University where she studied to become a probation officer. She continued her education and joined an apprenticeship program as a boilermaker on a shipyard. My older brother, after receiving his bachelor's degree, decided to follow-in our Mom's footsteps. He joined an apprenticeship program as well to become a Rigger on a shipyard. My youngest brother completed his MBA and went through an apprenticeship and works on a shipyard, as well. Of course, I knew I would join an apprenticeship program, however, I decided to go on a different path, which lead me to Helix.
What achievements/sacrifices have you made to get you where you are today?
I am currently a licensed Journeymen in VA & DC. I love what I do. If you are in a trade that you do not like you will not excel. I feel like I am in a position to change negatives to positives. I try to show and encourage my team they can do great things. Remaining dedicated to what I do, has gotten me to where I am today.
Why is Black history month important to you and what would you like others to know regarding BHM?
It is very important to me because it's MY history. I do however think it is important to recognize every ethnicity all year long. Mostly, everything is built on teamwork and would not be possible if we didn't all work together. I'm honored to be spotlighted…particularly this month! I have been in this industry 22 years and this is the first company to celebrate black history.
How do you plan to recognize others as they achieve Helix?
I will continue to give recognition when it is deserved. It is comforting to know that Helix supports everyone in achieving and exceeding their goals. I am proud that my team has an open-door policy. I can call on any Superintendent in my area and everyone is willing to help.
Who or what inspires you to make your mark at Helix?
What inspires me is the daily grind of building something. Who inspires me is the younger generation? They need to see that anything is possible. So, the younger generation can see someone like me running a job they know they can do it too. Mike Lindley saw something in me that I knew I had, but others did not see that in me, he gave me an opportunity. At the end of the day, I am grateful to be in this position to show other minorities it is possible.