Celebrating African American Inventors

Return to Blog
Celebrating African American Inventors
In honor of Black History Month we recognize the invaluable contributions Black inventors have made throughout history. The electrical industry has been shaped by remarkable African American inventors.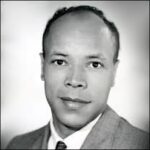 Meredith Charles Gourdine

(

1929–1998

) – Electradyne Spray Gun
Meredith Charles Gourdine was the first inventor to use electrogasdynamics (EGD) to make useful inventions. Electrogasdynamics is the generation of electricity through the energy in highly pressurized gases. He proudly earned 30 US patents. Some of Gourdine's inventions included the Electradyne Spray Gun, which made it easier to paint unusual surfaces, like bicycle frames, and the Incineraid, a device to reduce air pollution created by incinerators. Other Gourdine inventions include an electric car battery, a system for clearing fog on airport runways, a method for getting oil out of shale rock, and repairing potholes using rubber from old car tires.

Walter Lincoln Hawkins (1911-1992) – Telephone Wire Coating
Walter Lincoln Hawkins held 18 U.S. and 129 foreign patents. His most famous is for a weather-resistant plastic coating for telephone wires that could withstand extreme fluctuations in temperature and last up to seventy years. The new coating saved billions of dollars and enabled the expansion of telephone service around the world, and continues to be used today.
Otis Boykin (1920-1982) – Pacemaker
Otis Boykin is remembered for his numerous contributions to shaping modern society. Variations of his many electrical resistor models are used around the world today in televisions, computers, and radios. While he has many notable inventions, he is especially known for the device he created that uses electrical impulses to maintain a regular heartbeat, now widely referred to as the pacemaker.

Hugh M. Browne

(1851-1923) – Backflow Valve
Hugh M. Browne was an educator who worked with such prominent African Americans as Booker T. Washington, W. E. B. DuBois, and Charles Chesnutt. Browne was especially concerned with education, and traveled to Liberia to compare the education system there to the one in the United States. Browne was also a practical man, interested in improving the lives of everyday people. He invented a machine that trapped sewer water and stopped it from flowing back into a house. This helped residents live healthier lives. Browne was granted the patent on April 29, 1890. 

Elijah McCoy

(1844-1929) – Lubricating Cup For Trains
Before Elijah McCoy, trains had to stop in order for workers to grease the gears by hand. McCoy's inventions made it possible for locomotives to automatically lubricate instead of the old manual method, improving efficiency.